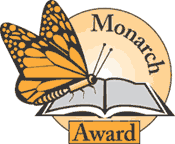 2018 Monarch Award Master List
.
Ben Franklin's Big Splash / Barb Rosenstock
Don't Throw it to Mo! / David Adler
Glow: Animals With Their Own Night-Lights / W.H. Beck
Humphrey's Playful Puppy Problem / Betty Birney
I'm Trying to Love Spiders / Bethany Barton
Last Stop on Market Street / Matt de la Peña
Lion Lessons / Jon Agee
Mango, Abuela, and Me / Meg Medina
Maya's Blanket / Monica Brown
Maybe Something Beautiful: How Art Transformed a Neighborhood
/ Isabel F. Campoy & Theresa Howell
Moldy Locks and the Three Beards / Noah Jones
Mother Bruce / Ryan T. Higgins
One Day in the Eucalyptus, Eucalyptus Tree / Daniel Bernstrom
Pink is for Blobfish: Discovering the World's Perfectly Pink Animals
/ Jess Keating
Red: A Crayon's Story / Michael Hall
Sam and Dave Dig a Hole / Mac Barnett
Take Away the A / Michael Escoffier
Thunder Boy Jr. / Sherman Alexie
Trombone Shorty / Troy Andrews & Bill Taylor
The William Hoy Story: How a Deaf Baseball Player
Changed the Game / Nancy Churnin
.
.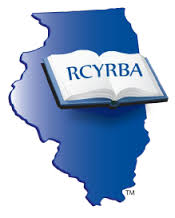 2018 Rebecca Caudill
Young Readers' Book Award
.
The Book Scavenger / Jennifer Bertman
Drowned City: Hurricane Katrina and New Orleans
/ Don Brown
Awkward / Svetlana Chmakova
All Rise for the Honorable Perry T. Cook
/ Leslie Connor
Hour of the Bees / Lindsay Eagar
I Will Always Write Back / Martin Ganda
Full Cicada Moon / Marilyn Hilton
House Arrest / K.A. Holt
Roller Girl / Victoria Jamieson
Listen, Slowly / Thanhha Lai
The Boy on the Wooden Box / Leon Leyson
A Night Divided / Jennifer A. Nielsen
The Seventh Most Important Thing / Shelley Pearsall
I am Princess X / Cherie Priest
Fuzzy Mud / Louis Sachar
Orbiting Jupiter / Gary D. Schmidt
Beneath / Roland Smith
Goodbye Stranger / Rebecca Stead
The Bitter Side of Sweet / Tara Sullivan
Last in a Long Line of Rebels / Lisa Lewis Tyre

2018 Bluestem Master List
.
11 Birthdays / Wendy Mass
A Blind Guide to Stinkville / Beth Vrabel
Among the Hidden / Margaret Peterson Haddix
Book Scavenger / Jennifer Chambliss Bertman
Crenshaw / Katherine Applegate
Crossing Niagara: The Death-Defying Tightrope Adventures of the
Great Blondin / Matt Tavares
Dash / Kirby Larson
Fuzzy Mud / Louis Sachar
Hilo Book 1: The Boy Who Crashed to Earth / Judd Winick
Roller Girl / Victoria Jamieson
Save Me a Seat / Sara Weeks
Separate is Never Equal / Duncan Tonatiuh
Soar / Joan Baur
Stick Dog / Tom Watson
The House that Jame Built: A Story About Jane Adams
/ Tanya Lee Stone
The Most Amazing Creature in the Sea / Brenda Z. Guiberson
The Terrible Two / Mac Barnett
The Wild Robot / Peter Brown
Where the Mountain Meets the Moon / Grace Lin
Who Was Louis Braille / Margaret Frith
.
.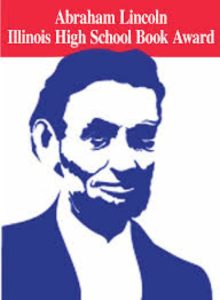 2018 Lincoln Award:
Illinois Teen Readers' Choice
.
.
All American Boys / Jason Reynolds and Brendan Kiely
*Denton Little's Deathdate / Lance Rubin
Divided We Fall / Trent Reedy
An Ember in the Ashes / Sabaa Tahir
Exit, Pursued by a Bear / E.K. Johnston
Highly Illogical ehavior / John Corey Whaley
March: Book One / John Lewis, Andrew Aydin, and Nate Powell
Nimona / Noelle Stevenson
Notorious RBG / Irin Carmon and Shana Knizhnik
Out of Darkness / Ashley Hope Pérez
The Rest of Us Just Live Here / Patrick Ness
Salt to the Sea / Ruta Sepetys
The Serpent King / Jeff Zentner
Shadowshaper / Daniel José Older
*Six of Crows / Leigh Bardugo
*These Shallow Graves / Jennifer Donnelly
To All the Boys I've Loved Before / Jenny Han
When We Colldied / Emery Lord
*The Wrath & the Dawn / Renée Ahdieh
Zeroboxer / Fonda Lee
* chosen by student reading panel