Bring your child to Storytime!
Due to the ongoing COVID-19 crisis, in-person storytime sessions have been suspended until further notice. Explore the wonderful world of books at storytime! Storytimes are designed to be fun, engaging, and interactive. Plus, they are a great way to spend some special time with your child. Please register your child at the Youth Services Desk as indicated. Drop-in programs do not require registration.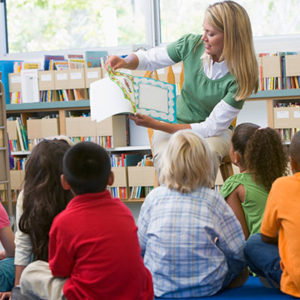 Toddler Storytime – Ages 1 to 3
Stories, songs, fingerplays, and movement
Wednesdays at 10:30 AM
Canceled until further notice. 
(Toddler storytime is 20-30 minutes in length.)
Preschool Storytime – Ages 3 to 5
Stories, songs, and a craft
Tuesdays at 10:00 AM
Canceled until further notice.
(Preschool storytime is 45 minutes in length.)
Family Storytime – All Ages Welcome
Stories and songs
Saturdays at 10:00 AM
Canceled until further notice.
(Family storytime is 25-30 minutes in length.)
Follow the Nippersink Public Library on Facebook
for virtual storytime options during this period of social distancing! 

The library reserves the right to photograph and videotape program participants. These photos and videos may be used in library publications and publicity including the website. Please notify library staff if you do not want your child or you to be photographed.
1,000 Books Before Kindergarten
The 1,000 Books Before Kindergarten Program is a nationally recognized literacy program that encourages parents to read 1,000 books with their child before they start kindergarten.  It may sound difficult, but if you read at least one book each night to your child, after three years you will have read 1,095 books together.  If you already read to your child, you know you often read more than one book at a time anyway.
Register at the Youth Services Desk and pick up a reading log for the first 100 books – or sign up for Beanstack and keep track of your reading using their app. (The Beanstack app is available for iPhone and Android devices.) Here is a list of highly recommended books – and another list of recommended titles for children! Get reading!